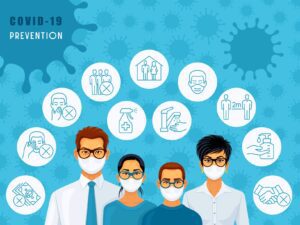 Kelowna Denture Clinic takes patient and staff health and safety seriously. We follow all requirements for infection prevention and control (IPAC) for oral healthcare providers from the College of Denturists of BC and the BC Ministry of Health.
Here is an overview of some of the IPAC measures we have in place.
Patient screening
Patients are screened for COVID-19 symptoms and risk of exposure prior to appointments and when they arrive for all appointments.
We record the temperature of each patient.
Patients who feel unwell in any way will not be able to be seen for their appointment.
Staff screening
Staff are screened for COVID-19 symptoms and risk at the start of each workday.
We record the temperature of each staff member.
Staff who feel unwell in any way will stay home.
Disinfection
Enhanced cleaning and disinfection takes place before and after each appointment and at the end of each work day.
Enhanced disinfection procedures for patient rooms are taking place before and after appointments.
Enhanced disinfection procedures of equipment and office fixtures like computers keyboards, telephones, chairs, doorknobs, and buttons that may be touched unconsciously are being followed.
All mail and packages that enter our clinic is disinfected.
Sterilization
We follow strict sterilization protocols for any non-disposable items used intraorally and implements used on dental prosthetics.
Hygiene and PPE
Gloves must be removed upon entry to the clinic, to reduce the risk of unintentional cross contamination from outside sources into our clinic.
Hand sanitizer must be used by all persons who enter the clinic.
Hand sanitizer and instructions for correct use are placed throughout the clinic for patient and staff use.
Liquid hand soap and information about correct hand washing procedure are placed at all sink areas.
Face masks must be worn by all persons inside our clinic. Masks will be provided to patients who do not have their own, for use while they are inside our clinic.
Patients will be instructed to use an oral pre-rinse at the start of each appointment, before treatment starts.
Staff are provided with enhanced personal protective equipment (PPE), including face shields.
We ask patients to use electronic methods of payment (Visa, MasterCard, or e-transfer) whenever possible, rather than by cash or cheque.
Scheduling
The first appointment of each day is reserved for our immunocompromised patients, for enhanced risk protection.
We may offer to conduct certain appointments virtually (e.g., via Zoom).
Patients are asked to be right on time for their appointments.
Early arrivals will be asked to wait in their vehicles until we are ready for their appointment.
Social distancing
A plexiglass safety shield has been installed at our reception desk.
We actively discourage the use of our waiting area unless absolutely needed.
Patients will be asked to wait in their vehicles until we are ready for their appointment.
Patients will be taken directly into an appointment room, rather than be asked to linger in the waiting area.
Friends and family should remain outside the clinic, unless you require an escort for physical or medical reasons.
Our waiting area has been reorganized to ensure adequate social distancing.
Magazines, brochures, and business cards have been removed from the waiting area. Copies of brochures and business cards are available upon request from the reception desk.